11-29-2007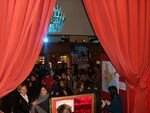 Just a fortnight after winning at Euroshorts in Warsaw, Saving Mom and Dad rolled into the River to River Florence Indian Film Festival. In its seventh year now, this Italian festival specializes in films related to India. It has gained a great reputation throughout Italy as well as in India and the Indian diaspora. This year was a banner year for River to River. For the first time, the festival was held in the Cinema Gambrinus, a gorgeous cinema built at the dawn of moving pictures. This red carpeted movie mecca filled with statues and art deco design is located in the heart of Florence, just two minutes walk from the Duomo on the Piazza della Repubblica.
Filmmaker Kartik Singh attended the screening, introducing the film to the Florence crowd in a small speech prepared in Italian. Afterwards, he stayed for Q and A. Questions ranged from how the choice of music came about to how the film was being received in other places. Singh said after the screening, "This is the best screening of the film I have attended since the one we did at AMC in New York. The audience was laughing and reacting at all the right places, and the applause at the end was heartfelt." Audience members cast their votes after the screening, rating the film from 1 to 5. The following Thursday, the producers of Saving Mom and Dad were informed that the film received the most votes, and thus became recipient of the Audience Award.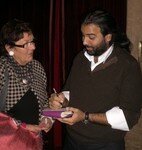 Singh also commented, "A beautiful thing happened that night in Florence. After the screening, a man approached me. He was in his 60's, clean shaven, with a pony tail. He spoke to me in broken English and explained that he was born in South America, of a Sikh father and Argentinian mother. He told me that he always suffered from having to hide his identity as a Sikh, and that all three of his sons legally had the name Singh removed from their name. His voice faltered as he held back his emotions. I could see that the film had affected him a lot, and it made me think: if our film did that, then maybe it can play a role in people's lives. This is precisely why I want to make films."
Saving Mom and Dad ends the year on a very positive note and the first half of 2008 looks just as bright, with screenings already booked in Germany, India, and in the US, in Los Angeles and the Midwest.