11-30-2007
2007 was a thrilling year Saving Mom and Dad .
In six months on the festival circuit, this film has nabbed 20 selections in 9 countries, including two prizes and Opening Night Film honors at the Spinning Wheel Sikh Festival in Toronto. Among the more surprising selections was Poland, where the Euroshorts prize will translate into a 15 city tour of Poland. Could anyone involved have foreseen popularity for the film in Eastern Europe?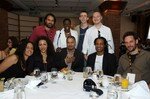 Another surprise was the warm welcome received at the Urbanworld Vibe festival in New York City in June. The festival, founded with Quincy Jones and HBO, caters primarily to African-American and urban themes, but SMD, while not falling in those categories, made a big splash there, and was then invited to Danny Glover's LA based Pan-African Arts Festival coming up in February 2008. This movie is proving that it has legs, and it is particularly satisfying to see it making an impact in so many unexpected places around the globe.